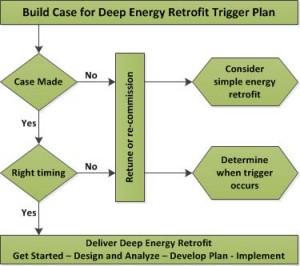 Implementing a deep energy retrofit, to achieve a 40 to 50% building level efficiency improvement, on a small to medium sized building is not financially viable as a single project. Therefore, creating an energy asset management plan that manages "deep energy retrofit triggers" over time is very important to consider.
In other words, to achieve deep energy retrofits in the SMSCB markets is achievable when energy audits are cost effective, reliable and lead to the development of an energy asset plan that identifies deep energy retrofit triggers and provides the economic rationale and optimal implementation. Stakeholders need to identify and deliver the following:
Deep Retrofit Triggers: Identifying the situations in a building's life cycle that should trigger a deep energy retrofit.
Technical Potential: Finding the energy use that would result from implementing the most impactful efficiency measures possible.
Modeling: Economically and reliably determining energy and life cycle cost savings using advanced methods.
Right-Timing & Right-Sizing: Timing efficiency improvements with already planned capital improvements and breaks in occupancy; accurately sizing mechanical and electrical equipment.
Measurement & Verification: Ensuring achievement of savings while illuminating opportunities for continuous improvement.