As a member of the Subtask 5.4 Indoor Environment Quality (IEQ) assessment team, the Center for Building Performance and Diagnostics (CBPD) at Carnegie Mellon University conducted a Post Occupancy Evaluation (POE) for Building 661 in Navy Yard, Philadelphia, PA, on July 10th, 2015.
The IEQ study was undertaken to assess spatial and environmental conditions as well as user satisfaction in the workplace after the renovation of the building which took place in 2014. The set of measures, described in detail in the full report, include: as built records of the technical attributes of building systems (TABS); spot measurements using the National Environmental Assess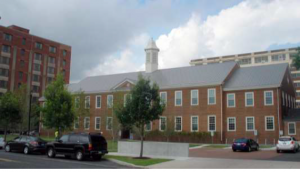 ment Toolkit (NEAT) instrument cart; 24-hour continuous measurements using Aircuity system for the thermal and air quality in the workplace; and short-term user satisfaction questionnaires in the sampled workstations.
The study was focused on measuring IEQ on a cooling season – thermal, air, lighting and acoustics – capturing the physical attributes of the building systems that may be critical to those measurements as well as user satisfaction on a "right-now" basis for comparison to the measurements. This IEQ study will be used to test the effectiveness of energy conservation measures, and to provide further cost-benefit justifications for energy retrofit investments where possible.